TACOS AL PASTOR – CHICKEN AL PASTOR TACOS RECIPE | CHEFDEHOME.COM
Do you love enjoying Tacos Al Pastor in your favorite Mexican Restaurant? Imagine serving same fire-pit style juicy charred Chicken Al Pastor tacos at home, made from scratch with lots of pineapples and chilies. Only 15 minutes prep and easy to find ingredients. I'm certain, this easy recipe will make your next taco night extra special!
This recipe is also summer approved because I'm sharing instructions (and tips) to grill chicken al pastor outdoor. (Oven roasted version is bonus for weeknights. Check directions for both)
Traditional Al Pastor, or Tacos Al Pastor, is prepared Greek Shawarma-style or Dönar Kabob style on an iron rod which revolves around fire-pit to roast the meat as it rotates. Resulting meat is juicy, and has smokey fire-roast flavor. Meat ( chicken or pork) is layered with rings of pineapple. Pineapple grills with meat, juice of grilling pineapple add sweetness to roasting meat. Overall, a lot of deliciousness goes into this humble shepherd-style chicken roast famous by name Al Pastor.
One thing to note is there is no Al Pastor without Pineapple. Every time I have had Al Pastor Tacos, pineapple is the star flavor. So, please don't skimp or skip pineapple from this recipe.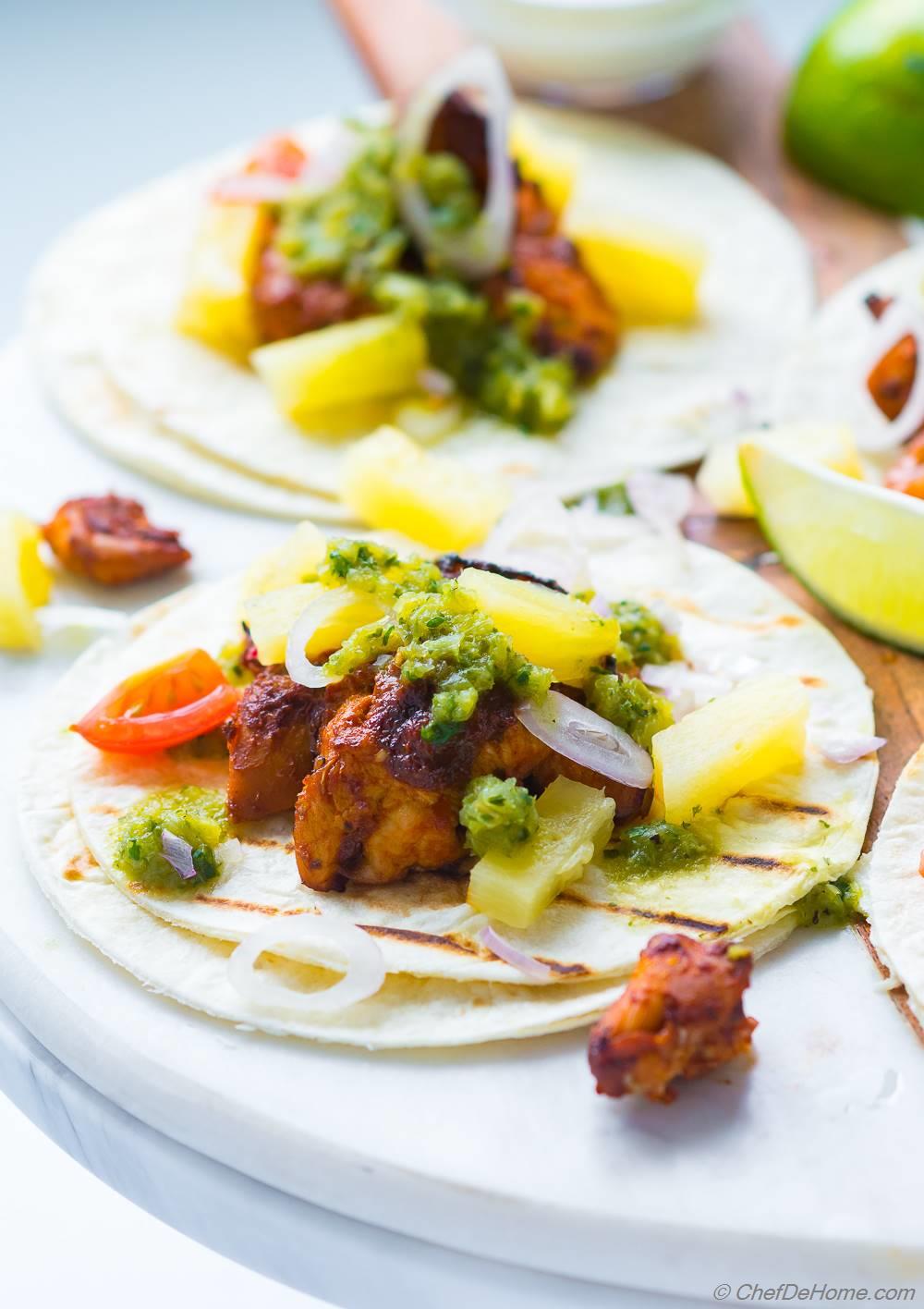 How to make Tacos Al Pastor At Home:
My goal was to share Al Pastor recipe which highlights Al Pastor fire-roast flavor, pineapple flavor but is easily prepared at home.
Al Pastor Marinade:
First step to delicious Al Pastor Tacos is Al Pastor marinade. The base marinade ingredients are garlic, lemon juice, olive oil, cilantro, and oregano. Two key ingredients which make this marinade special are: Guajillo Chilies and Pineapple. I toast and soak dried chilies in hot water. When chilies are soft, I puree these with pineapple, pineapple juice, garlic, lemon juice, oil, tomato paste, oregano and cilantro. The resulting marinade has bright citrus and pineapple forward flavor with very subtle heat of chilies. It tastes so good, I even use it as enchilada sauce.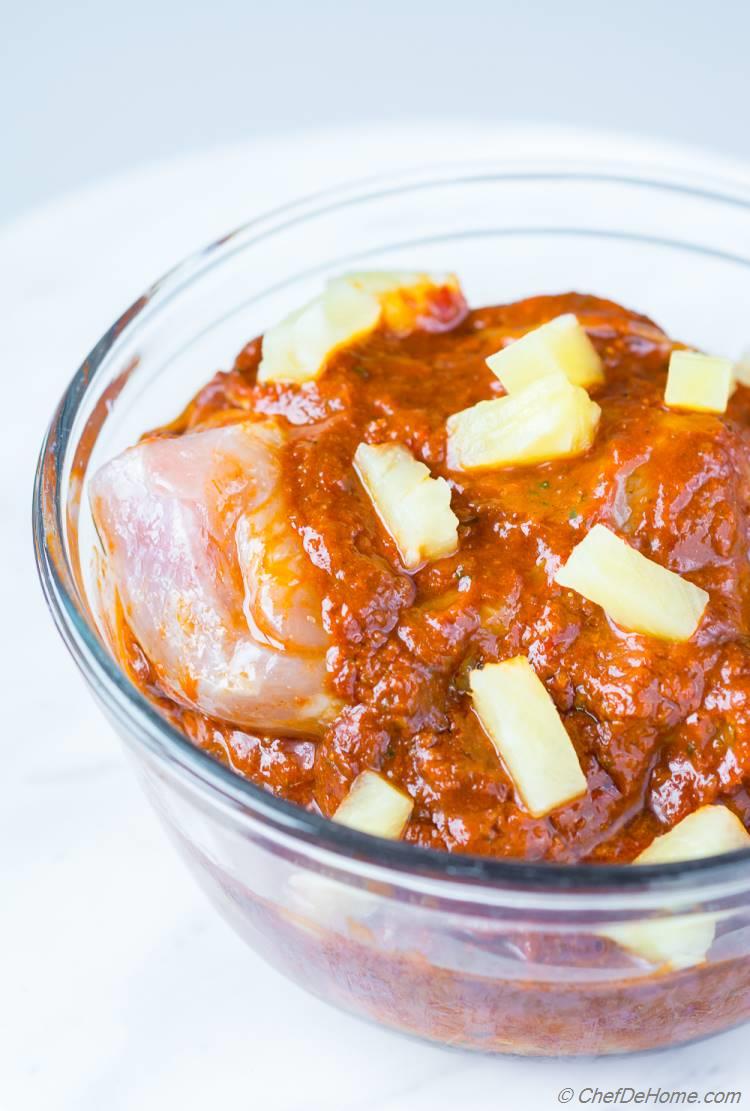 Cooked vs Fresh Pineapple: One of the key ingredient in Al Pastor marinade is pineapple. I have tried this recipe with both fresh and canned pineapple. My vote goes to canned pineapple packed in pineapple juice. I like it because it gave me consistent flavor of pineapple every time I tried. (I use both juice and pineapple in marinade.)
I would only use fresh pineapple if and only pineapple is fully ripe and juicy. When using fresh, I recommend juicing few slices of pineapple or bring a can of pineapple juice to add punch of flavor in the marinade.
Note: Even though it is a chilies based marinade, it is not very high in heat.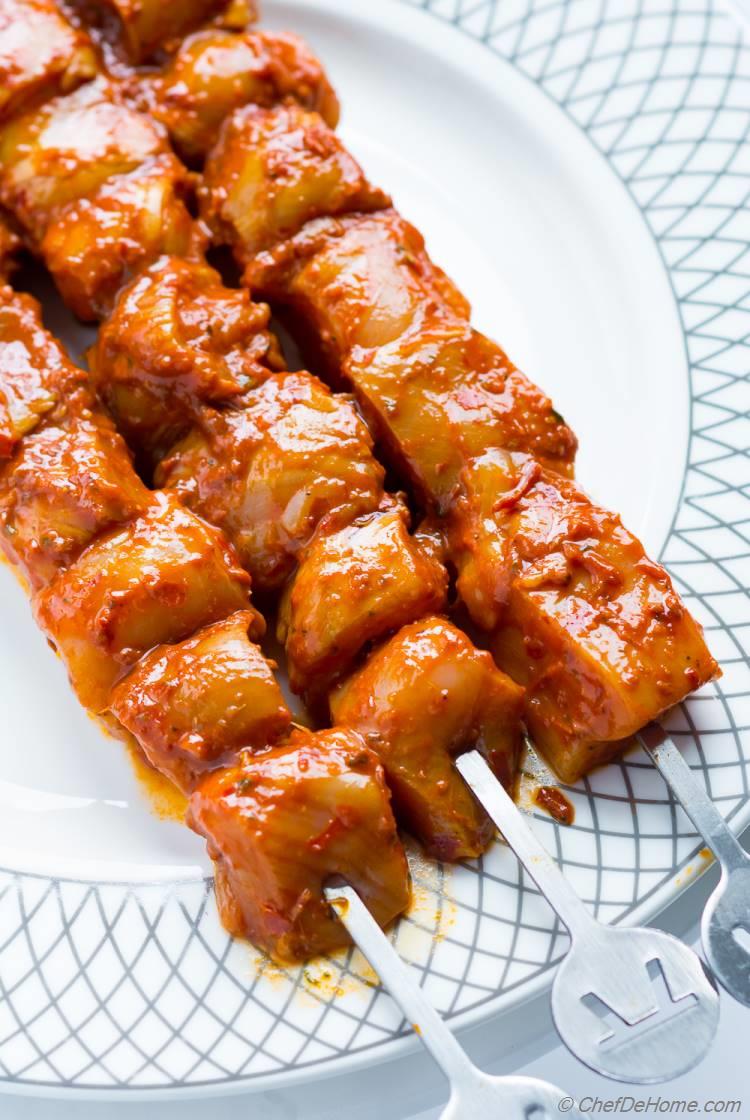 Cooking Al Pastor:
To get that charred, fire-roasted Al Pastor flavor at home, grill or oven broiler is the way to go. This is why I love grilling Al Pastor like Greek Kabobs skewed on iron skewers. The open flame caramelize the sweetness of pineapple in marinade bringing close-to-original flavor in homemade easy el Pastor tacos recipe.
For juicy caramelized chicken kabobs, I brush chicken with more pineapple juice while grilling. This also mimics the fire-pit flavor of roasted pineapple dripping on chicken.
You can also skew additional pieces of pineapple along with chicken for more grille pineapple flavor. I love keeping meat-only skewers so that I can grill'em perfectly without worrying for fruit over-grilled or falling apart.
Tip: Cook pineapple separately on grill for serving or making salsa.
Serving Suggestion: You can also serve Al Pastor like a Mexican Platter with side of pineapple, salsa verde, and soft tortillas to make-your-own tacos for Tacos Tuesday or Sunday Grilled Dinner.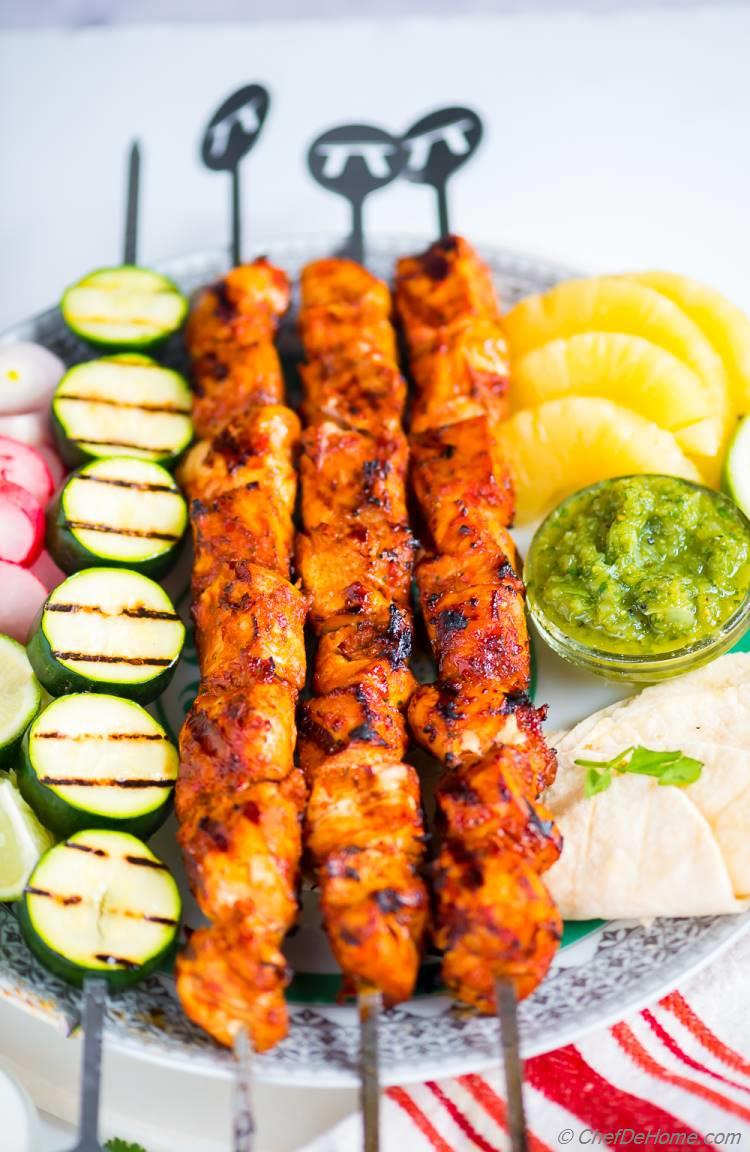 Al Pastor Tacos:
No wonder Tacos Al Pastor is second name for Al Pastor because THE best way to enjoy charred, juicy, sweet and spicy Al Pastor meat is to wrap it in soft tortillas with some zesty salsa, more pineapple and red onion. These simple ingredients bring out the flavor of gajjillo chili marinade, pineapple and make a delicious taco experience.
My favorite Al Pastor Tacos Toppings:
1. A zesty, citrus-y salsa such as Salsa Verde
2. Grilled or fresh pineapple, or lime-pineapple salsa.
3. Red Onion
4. Pickled Radish
5. Sour Cream
6. Lime wedges for extra splash

Simple, isn't it? Idea is to let Al Pastor meat shine on tacos. I can tell you, that is the key to serving good, delicious Tacos Al Pastor! I hope you will enjoy'em as much as we do.
From my grill to yours, another Mexican favorite, The Tacos Al Pastor recipe. (check!)
Have a wonderful day! – Savita
Provided by: Savita
Total time: 30 minutes
Prep time: 15 minutes
Cook time: 15 minutes
Yield: 2 lbs Al Pastor
Ingredients:
2 lbs Chicken, breast, diced into cubes for 6 skewers
8 Oz Pineapple, sliced pineapple, packed in pineapple juice
3 Guajillo Chili, Or 2 Guajillo and 1 Ancho Chili
4-5 Garlic, cloves
2-3 Lemon, 1/4 cup juice and tsp zest
2 tbsp Cilantro, more for serving
1 tsp Oregano
1 tbsp Tomato Paste
1/2 tsp Black Pepper
1 Bouillon Cube
3 tbsp Olive Oil
1/2 tsp Salt, adjust to taste
Salsa, salsa verde, recipe in notes
Tortillas
Red Onion
Sour Cream
2-3 Lime, or lemon, sliced to wedges
Radish, red radish, pickled, **recipe in notes (optional)
Steps:
Boil 2 cup water . While water boils, heat a skillet. Cut open the chilies and toast on dry skillet for 1-2 minute to awaken the flavors. Add chilies to hot water and leave aside for 20 minutes or until skin softens.
In blender jar, add chilies and 1/4 cup of soaking liquid (discard rest of soaking liquid). Add rest of al pastor marinade ingredients with 2 slice of pineapple and 1/4 cup pineapple juice. Blend to make puree. Taste and adjust salt.
Add marinade with chicken into a container with tight lid. Coat chicken in marinade. Cover with lid. Leave to marinate for 30 minutes (max overnight). When ready to grill, skew chicken on metal skewers. Discard leftover marinade.
When ready to grill, skew chicken on metal skewers. Discard leftover marinade.
Oven – Preheat oven at 400 degrees. Bake at 10-12 minutes or until done and slightly charred at edges. Grill – Preheat grill at medium (375-400). Spray with oil and grill for 10-12 minutes. Baste with reserved pineapple juice 1-2 times in last 4-5 minutes.
Serve on tacos topped with *salsa verde, more chopped pineapple, red onion, **pickled red radish, and drizzle of sour cream. Enjoy!
CHICKEN AL PASTOR TACOS RECIPE | BARBECUE AT HOME
You might have never heard of Chicken
Al Pastor, but that is totally okay! This chicken al pastor recipe is a
culmination of cultures from around the world seen in one quick and easy
recipe. You get a mix of flavors and cuisine styles from Lebanon, Mexico, and
the Caribbean. For these spectacular grilled rotisserie chicken tacos, you need
the bold flavors of Dickey's
Caribbean Chipotle Barbecue Rub, Dickey's
Chili Pork Butt Rub, pineapple, onion, cilantro, and lime. Your guests will
wonder how you wrapped a world of flavor in a corn tortilla but we promise that
this al pastor chicken tacos recipe will have them confused just how you managed
to do it!The shawarma cooking method was
brought over by Lebanese immigrants to Mexico in the 19th century. "Al Pastor"
refers to Mexican marinated meat that is cooked "Shephard style" or Shawarma
way by cooking meat on a revolving spit. Since then, Mexican cuisine has
adopted the Lebanese cooking method. Commonly, the roasted meat is sliced off
the revolving pit to be served on a pita bread, but Mexican cuisine adapted
here by replacing the pita with their tortilla. Instead of the revolving pit we
will use a more common cooking appliance in our day to day: a grill with the
rotisserie attachment for all kinds of meat, chicken in this case.
And instead of pork, our recipe
uses Dickey's
Chili Pork Butt Rub mixed with Dickey's
Caribbean Chipotle Barbecue Rub on 5 lbs. of chicken thighs – this will be
our flavorful Chicken Pastor. These two rubs always come in clutch saving you
time after time. Take 2 and up to 4 hours to marinate the chicken pastor before
it goes on the grill. We promise you, it will be worth the wait! Next, grill
the sweet grilled Pineapples on the skewer which adds a Caribbean vibe to this
dish. Finally top the chopped chicken pastor as well as the grilled pineapple on
the tortilla with diced onions and cilantro garnish with sliced limes on the
side (Feel free to mix and match your taco toppings). There you have it; a
clash of tangy, juicy, and flavorful chicken al pastor tacos that will spin
your world! Is it Taco Tuesday yet?
Add this recipe to Yummly
Provided by: Barbecue At Home
Total time: 5 hours
Prep time: 3 hours
Cook time: 2 hours
Yield: 4
Ingredients:
5 Lb Chicken Thighs
2 Tbsp Dickey's Chili Pork Butt Rub
4 Tbsp Dickey's Caribbean Chipotle Barbecue Rub
1/2 Fresh Pineapple
1 Yellow Onion, diced
1 Bunch Cilantro, chopped
1 Lime, cut into wedges
1 Pkg Corn Tortillas
Steps:
In small bowl combine Dickey's Chili Pork Butt Rub and Dickey's Caribbean Chipotle Barbecue Rub. Stir to mix well.
Season all chicken thighs well with rub mixture and refrigerate for minimum 2 hours and up to 4.
Cut pineapple crosswise into 2″ wheels, leaving the core intact. Remove skin from pineapple
Using the rotisserie attachment for your grill, skewer on one pineapple wheel through the core. Next skewer one chicken thigh at a time alternating directions to create an "x" pattern.
Finish by capping with the remaining pineapple wheel. Press pineapples together to tightly sandwich chicken thighs. Assemble the rotisserie attachment.
Grill over a medium open flame with the cover off of the grill until the internal temperature reaches 165° F.
Slice the chicken into 1/2″ strips. Reserve.
Grill tortillas to heat. Assemble with chopped chicken, white onion and cilantro. Serve with a wedge of lime for squeezing.