BEST CAPE MALAY CHICKEN CURRY RECIPE – HOW TO MAKE CAPE MALAY …
Lemony and richly savory, Cape Malay curry is a chicken and vegetable one-pot from South Africa. Its ingredients are similar to those in Indian curries, but…
quelle quantite de muesli au petit dejeuner r
.
Provided by: 177MILKSTREET.COM
Total time: 1 hours
Cook time: 1 hours
Yield: 6 Servings
Ingredients:
1 tablespoon fennel seeds
1 tablespoon cumin seeds
Kosher salt and ground black pepper
1 teaspoon turmeric
2 pounds boneless skinless chicken thighs, trimmed and patted dry
2 tablespoons grapeseed or other neutral oil
2 medium yellow onions, chopped
1 4-ounce chunk fresh ginger, peeled and cut into 5 pieces
4 garlic cloves, minced
2 serrano chilies, stemmed and halved lengthwise
2 cups low-sodium chicken broth or water
1 pint grape or cherry tomatoes
2 cinnamon sticks
2 bay leaves
1 pound Yukon Gold potatoes, cut into 1-inch cubes
2 tablespoons lemon juice (1 lemon), plus lemon wedges, to serve
1/2 cup loosely packed fresh mint leaves, torn
Cooked basmati or jasmine rice, to serve
Steps:
In a bowl, mix the fennel, cumin, 1 teaspoons salt, 1 teaspoon pepper and the turmeric. Use 1 tablespoon of the mixture to season the chicken.

In a large Dutch oven over medium-high, heat the oil until just smoking. Add the onions and cook, stirring occasionally, until lightly browned, 8 to 10 minutes. Stir in the ginger, garlic and chilies, then cook, stirring, until fragrant, about 30 seconds. Stir in the broth, tomatoes, cinnamon sticks, bay leaves and remaining spice mixture, then submerge the chicken thighs.

Bring to a simmer, then cover and cook for 25 minutes, adjusting the heat to maintain a steady but gentle simmer. Stir in the potatoes, cover and return to a simmer. Cook until the the chicken and potatoes are tender, another 12 to 15 minutes.
Transfer the chicken to a large plate. Remove and discard the ginger, cinnamon sticks, bay leaves and chili halves, then continue to simmer over medium until the liquid is slightly reduced, about 5 minutes.
Meanwhile, using two forks, pull the chicken into bite-size pieces, then return to the pot and stir to combine, taking care not to break up the potatoes.

Stir in the lemon juice, then taste and season with salt and pepper. Transfer to a serving bowl and sprinkle with mint. Serve with rice and lemon wedges.
CAPE MALAY CHICKEN CURRY WITH YELLOW RICE RECIPE | BBC GOOD FOOD
Spice up chicken thighs in a South African curry, packed with flavourful spices and served with a side of sweet, fragrant rice
Provided by: Sara Buenfeld
Categories: Dinner, Main course
Total time: 1 hours 50 minutes
Prep time: 30 minutes
Cook time: 1 hours 20 minutes
Yield: 6
Ingredients:
2 tbsp sunflower or rapeseed oil
1 large onion , finely chopped
4 large garlic cloves , finely grated
2 tbsp finely grated ginger
5 cloves
2 tsp turmeric
1 tsp ground white pepper
1 tsp coriander
1 tsp cumin
seeds from 8 cardamom pods , lightly crushed
1 cinnamon stick , snapped in half
1 large red chilli , halved, deseeded and sliced
400g can chopped tomatoes
2 tbsp mango chutney
1 chicken stock cube , crumbled
12 bone-in chicken thighs , skin removed
500g potato , cut into chunks
small pack coriander , chopped
50g butter
350g basmati rice
50g raisins
1 tsp golden caster sugar
1 tsp ground turmeric
¼ tsp ground white pepper
1 cinnamon stick , snapped in half
8 cardamom pods , lightly crushed
Steps:
Heat the oil in a large, wide pan. Add the onion and fry for 5 mins until softened, stirring every now and then. Stir in the garlic, ginger and cloves, and cook for 5 mins more, stirring frequently to stop it sticking. Add all the remaining spices and the fresh chilli, stir briefly, then tip in the tomatoes with 2 cans of water, plus the chutney and crumbled stock cube.
Add the chicken thighs, pushing them under the liquid, then cover the pan and leave to cook for 35 mins. Stir well, add the potatoes and cook uncovered for 15-20 mins more until they are tender. Stir in the coriander.
About 10 mins before you want to serve, make the rice. Put the butter, rice, raisins, sugar and spices in a large pan with 550ml water and 0.5 tsp salt. Bring to the boil and, when the butter has melted, stir, cover and cook for 10 mins. Turn off the heat and leave undisturbed for 5 mins. Fluff up and serve with the curry.
Nutrition Facts:
Calories 605 calories, FatContent 19 grams fat, SaturatedFatContent 7 grams saturated fat, CarbohydrateContent 74 grams carbohydrates, SugarContent 13 grams sugar, FiberContent 3 grams fiber, ProteinContent 32 grams protein, SodiumContent 1 milligram of sodium
CAPE MALAY CHICKEN CURRY RECIPE | CHEFDEHOME.COM
In this savory spiced and fragrant Cape Malay Chicken Curry recipe, skinless chicken thighs cook succulent nestled with potatoes and a sweet and sour, ginger-garlic curry. All the flavors go so good together that this will become your favorite Chicken Dinner of all times. Plus curry is easy to prepare, can be made ahead. Gluten free and Dairy Free.
In my home, a delicious curry makes dinner worth looking forward too. Leftovers are great for lunch, even another 1-2 rounds of dinner if I can manage to save some. 🙂
First, let me share what is Cape Malay Chicken Curry?!
Cape Malay Chicken Curry
South African cuisine is blend of many cultures including Indian and European. For me, Malay Curry closely resembles the home cooked chicken curry from India. Not loaded with spices, homemade curries are actually mild hot, made with mild spices and have no creams or even tomatoes. Potatoes are staple in curry to make dinner substantial and to balance the flavor of spices.
I'm always looking to try new chicken curry recipes. For a while I wanted to try a good South African Chicken Curry. Milk Street's chicken curry and Fatima Sydow's chicken curry were my inspirations to start exploring Cape Malay Chicken Curry.
Malay Chicken Curry is a savory and mild spicy curry, mostly made with whole bone-in chicken, cut into pieces. Most spices used are whole. These are meant only to perfume the curry and are not toasted. (toasting make spices strong) Spices and aromatics include garlic, ginger, bay leaves, cinnamon, cardamom, cayenne pepper, coriander, and turmeric. The savory aspect of Malay Curry comes from use of sweet condiment such as a chutney (sweet relish cooked with vinegar and spices), honey, sugar.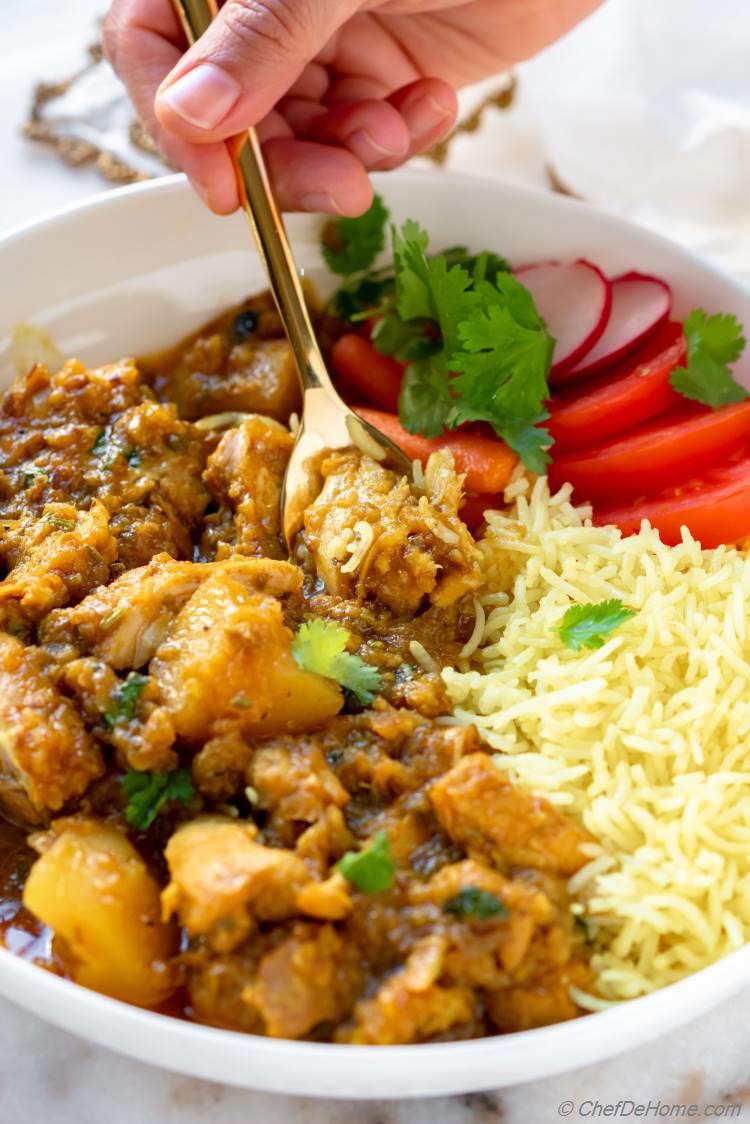 Once I understood the flavor and roots of Cape Malay Curry, I used;
Many homemade variation of chutneys in the curry. Homemade Mango Chutney, Apple Chutney, or a peeled and cored apple with some sugar/honey are my top three favorites. Just a little goes long way. These give curry the perfect balance of sweet and sour. (check more details in substitutes)
For chicken, I prefer boneless and skinless thighs which cook moist and consistent. Chicken thighs also hold the curry sauce well.
For spices, I use what I have in hand. My top favorites are fennel seeds, cumin, cinnamon, turmeric, paprika, onion, ginger and garlic. You are welcome to use more or less spices. Make this recipe your own.
So let's get started! Cook Cape Malay Chicken Curry today!
What Do You Need for Cape Malay Chicken Curry?
Cape Malay Curry ingredients are every-day-curry ingredients; easy to find and perfect base for many curries eaten all around the world, including many Indian Chicken curries, European or in this case, South African.
To make curry more flavorful, I marinate chicken briefly with fragrant crushed-whole spices, garlic and ginger. This is not a traditional step but I have learned this with experience of cooking curries and stews that it gives curry delicious flavor.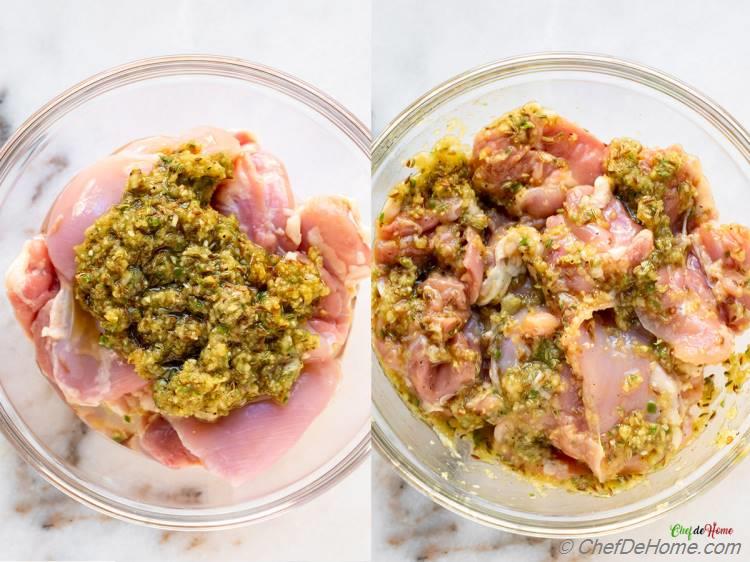 Notice sweet aroma in kitchen when marinated chicken starts to cook in the skillet, there by spices are toasted in the oil. (nostalgic)
Here is the list of the all ingredients Cape Malay curry:
Chicken
Onion
Garlic
Ginger
Lemon Juice
Turmeric
Paprika
Cinnamon
Fennel
Cumin
Chutney
When making Malay Chicken Curry
While chicken marinates, I cook yellow onions. Slightly caramelized onions give curry it's signature color and body to the sauce without any thickening agents.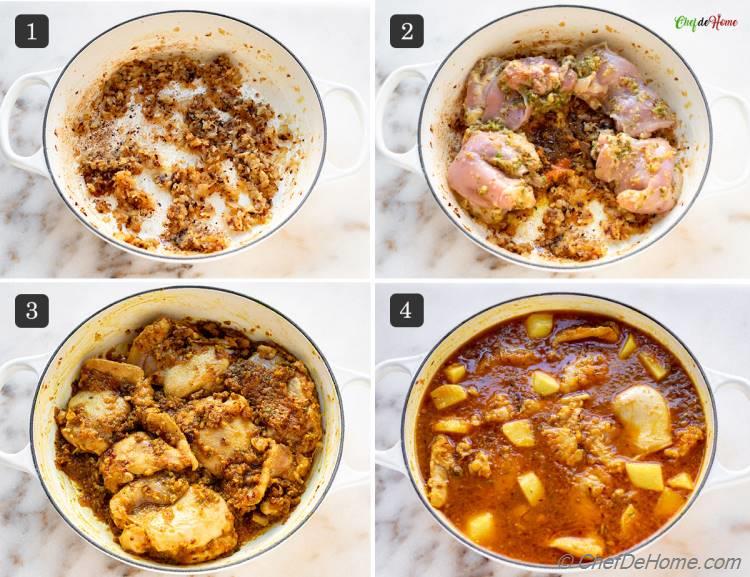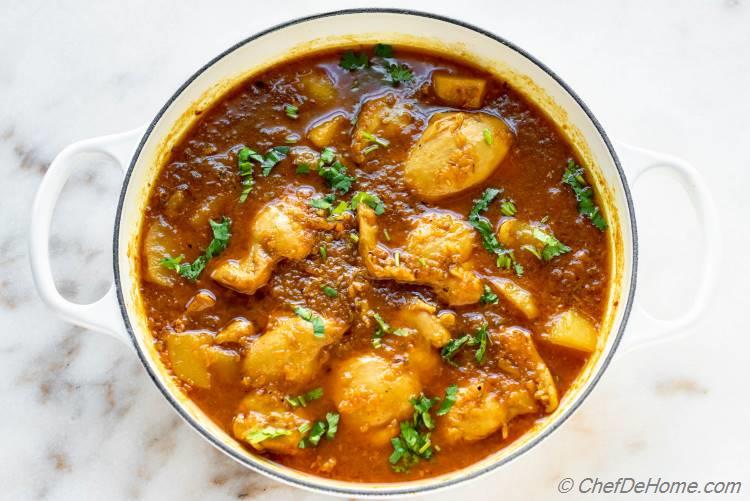 Once onions are caramelized, rest of the curry needs very little manual effort. Simply, sauté the marinated chicken and remaining spices such as turmeric and cinnamon with all of the marinade until chicken is no longer pink. Add water and potatoes. Simmer until chicken is cooked through, and curry has thickened.
That's it! Chicken Curry from Cape Malay is easier to prepare than it's looks! Aroma is just like eating in a South African or Indian restaurant. You will love the flavors. I bet!
What to Serve with Chicken Curry?
In our home, we love to eat Chicken Curries with side of rice, or naan. For pictures, I specially made South African Yellow Rice i.e. rice boiled seasoned with turmeric, salt, oil, and some sugar. On the side is the tomatoes, radish and carrot sambal i.e. tomato, red radish and carrots mixed with lemon juice, and salt. For best flavor, mix and leave aside while curry cooks.
Traditionally Chicken Curry Cape Malay is served with various kind of sides. Here is a complete list:
Yellow Rice
Sambals – fresh onion, tomato, carrots, coconut mixed with lemon, sugar, and salt.
Roti (wheat bread without leaving agent)
Chutney such as Mango Chutney
A simple salad and crusty bread also work great to mope the curry sauce.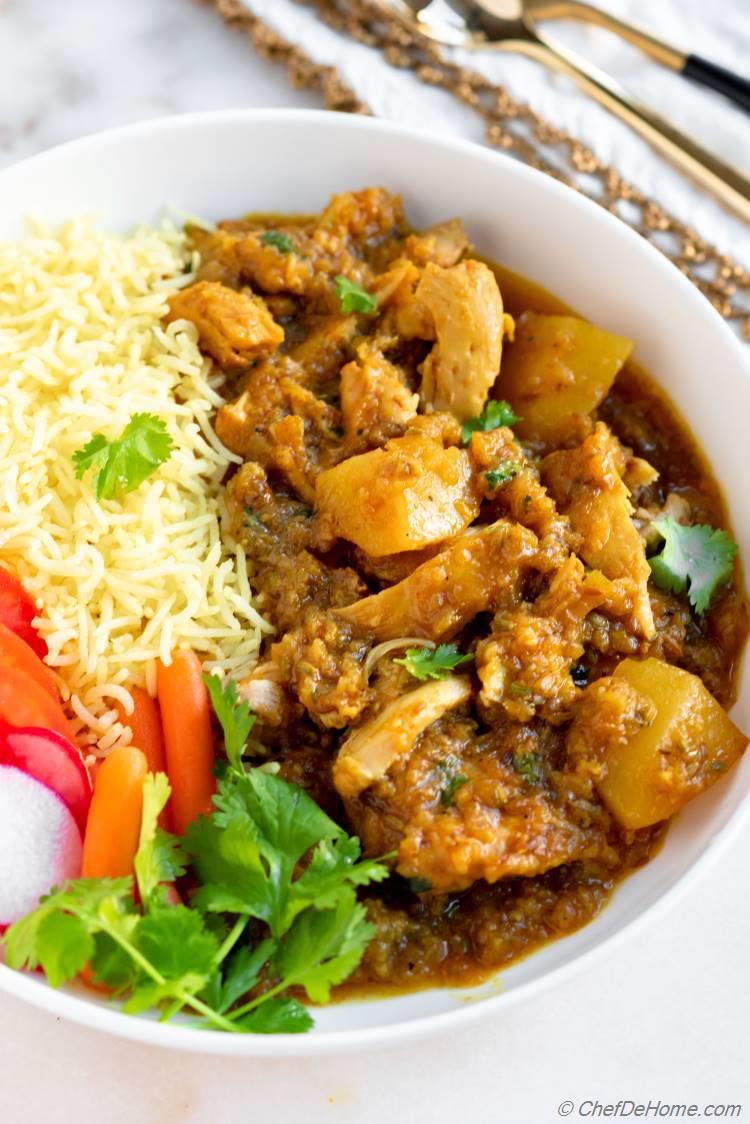 Creamy Cape Malay Chicken Curry with Coconut Milk
I decided to keep curry close to how it is traditionally made. But just like many traditional recipes, there are many variations of cape malay chicken curry. Many homefolks use cake flour or corn flour to thicken the curry. Few also use single cream or coconut milk or fresh shredded coconut and coconut milk.
Like I always say, home cooking is beautiful because it gives you chance to make a recipe your own. So if you prefer a creamy curry, make this chicken curry creamy by simply replacing water used with low fat coconut milk. Or add additional 1/3 cup coconut cream along with the water.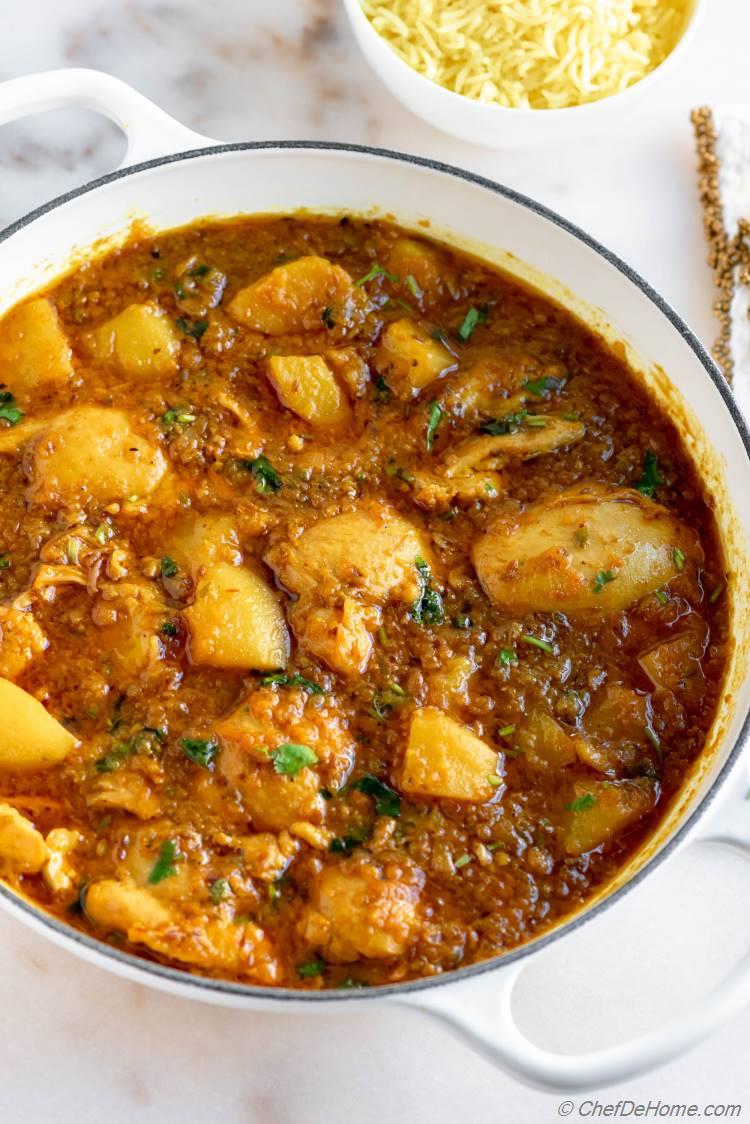 Make Ahead
Spices in curries get extra boost of flavor when curries are made a day before. Some days, I specially make curry a day ahead to get better flavor of spices. Cape Malay Curry can be made and refrigerated up-to 4 days in advance.
Reheat before cooking. For best results, heat in a pan on stove. If curry has thickened too much, loosen the sauce with some low sodium chicken stock or water. Taste and adjust salt before serving.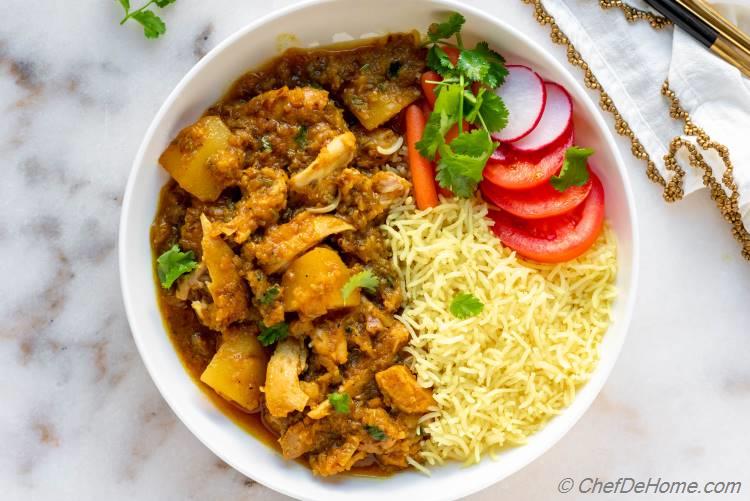 Friends, try something different for dinner tonight. This bone-warming, stew-style Cape Malay chicken curry with potatoes is fragrant, easy to cook and so delicious with chicken bursting with flavor of spices. Don't forget to serve rice on the side to devour the savory curry. Happy cooking!
Provided by: Savita
Categories: Main Course,Curry,Dinner
Total time: 55 minutes
Prep time: 20 minutes
Cook time: 35 minutes
Yield: 2.5 Quart Curry
Ingredients:
1.5 lbs Chicken, thighs, skinless boneless
1 lbs Potatoes, Yukon gold, peeled and quartered
4-5 Garlic, cloves
2 inch Ginger
1 Serrano pepper, or 2 small hot green chilies
2 tbsp Lemon, juice
2 tbsp Mango Chutney, See Note 1 for substitutes
3 tbsp Cooking Oil
1 Yellow Onion, large, grated or fine chopped
1 tsp Salt
1/2 tsp Sugar
1 Cup Water
Fresh Herbs, cilantro or parsley, for serving
1/2 tsp Black Pepper
2 tsp Fennel Seeds
2 tsp Cumin Seeds
1/2 tsp Turmeric
1/2 tsp Paprika, sweet, not smoked
2 inch Cinnamon, stick
Steps:
In a food processor jar, add garlic cloves, chili (serrano), rough chopped ginger, chutney, half of lemon juice, black pepper, fennel seeds, and cumin seeds, and 1/4 tsp salt. Process to make a coarse paste. Scrape it to a bowl, add chicken thighs. Coat chicken in the marinade. Set aside.
While chicken marinates, very fine chopped onion (for better results grate or coarse process in food processor). Heat half the oil in a Dutch oven or heavy bottom deep sauce pan. When oil is hot, add chopped onion, sprinkle 1/4 tsp of the salt and all sugar on the onions and cook until onions are slightly caramelized (8-10 minutes)
Add remaining oil followed by remaining spices i.e. turmeric, paprika, cinnamon, in the cooking onions. Top with chicken thighs along with marinade. Cook on medium heat until chicken is no longer pink. (3-4 minutes). Turn frequently, don't let masala (onion-marinade mix) burn.
Add potatoes and water. Stir to mix everything. Bring to boil on high heat. Lower the heat to medium, cover and then simmer for 20 minutes or until chicken is cooked through and curry has thickened.
Stir the curry. Taste and adjust salt and lemon juice. Add fresh chopped herbs. Scoop hot curry over rice. Enjoy!
CAPE MALAY CHICKEN CURRY BY ZURIE RECIPE – FOOD.COM
This, like all Cape Malay curries, has as many interpretations as there are cooks! Cape Malay curries are usually not biting and strong, but rather an aromatic mixture of spices. Naturally this depends on the individual cooks, and the curry can be made much stronger by adding more chillis (hot peppers). This recipe is my way of cooking a chicken curry, more or less: it took some discipline to measure and write down how much of each spice I use! So obviously this is a dish you change to your taste. About salt: I like using a natural sea salt, like Maldon flakes or our own Khoisan sea salt. But if you use these natural salts you need more of it than when using processed table salts. Please adjust to taste. Do not expect the burning curries of India! If you can manage my spice mixture this is a most delicious dish, and the longer it stands, the better it gets, so is perfect for making a day ahead, chilling, and re-heating. But I know that across ponds these recipes are often "lost in translation"!!
Total time: 1 hours
Prep time: 10 minutes
Cook time: 50 minutes
Yield: 4 serving(s)
Ingredients:
1 onion, medium, finely chopped
4 tablespoons oil
1 1/2 teaspoons coriander seeds
2 teaspoons hot pepper flakes (you can use fresh hot peppers to taste)
2 teaspoons fennel, ground (or 4 teaspoons whole fennel seeds)
1 1/2 teaspoons ground cumin
2 tablespoons ginger, fresh, finely chopped
1 teaspoon turmeric
1/2-1 teaspoon black pepper, coarsely ground
15 cardamom pods (whole pods)
1/2 teaspoon cinnamon
1 tablespoon garam masala (available from Indian shops, choose mild)
1 (14 ounce) can chopped tomatoes (400g)
1 1/2 lbs chicken pieces (best to cut up a medium chicken)
2 teaspoons garlic, finely chopped
2 teaspoons brown sugar (I like sticky muscovado)
1 tablespoon lemon juice
2 -3 teaspoons salt (or more, depending on type of salt)
Steps:
Gather your spices together, and peel and chop the ginger. Put the 10 spices — from the coriander seeds down to the garam masala — in a mortar and pestle or even in a coffee bean grinder. Mash them together so the cardamom pods burst and the whole thing becomes a mess of spices.
Then heat the oil in a pot, add the onion over fairly high heat, and stir now and then, for a few minutes. Add the spices you mashed or grinded, and stir. You might need to add more oil: spices slurp up oil as they fry. Don't worry, you will be able to skim it off again later.
Stir and fry spices and onion for about 2 minutes. Add the can of chopped tomatoes and stir. The heat should be high enough so everything bubbles together.
Add the chicken pieces, and stir to coat well, keeping heat high until everything is bubbling away.
Turn heat way down until it just simmers, put on a lid, and cook for about 20 minutes.
Sprinkle over the garlic, sugar, lemon juice and salt.
Simmer with lid at a small angle, for about 15 minutes more.
Stir through, taste the sauce, and adjust seasoning to taste.
Please note that it is easy, near the end of cooking, to skim off extra oil/fat with a spoon, as it collects in corners of the pot. On my photos you can see there isn't much oil or fat on the dish.
Serve this with rice. Tonight I served this with green vegetables and what you might call "grits and beans".
Nutrition Facts:
Calories 401.9, FatContent 29.9, SaturatedFatContent 6.4, CholesterolContent 77.6, SodiumContent 1245.5, CarbohydrateContent 13.1, FiberContent 2.9, SugarContent 6.4, ProteinContent 21.1
CAPE MALAY CHICKEN CURRY – FOOD24
Deeply aromatic with a gentle background heat.
Provided by: Food24
Total time: 65 minutes
Prep time: 20 minutes
Cook time: 45 minutes
Yield: 5 servings
Ingredients:
1 tsp coriander seeds
1 tsp cumin seeds
5 cardamom crushed, outer hasks removed
1 vegetable oil
12 chicken thighs and drumsticks
1 onion diced
1 garlic cloves, minced
1 red chilli deseeded
2 tsp garam masala
1 tsp turmeric
2 cinnamon sticks
2 tsp fresh ginger freshly grated
1 tsp sugar
400 g tinned tomatoes whole peeled, chopped
250 ml coconut milk
Steps:
For the spice mix:Toast all the dry seeds together in a pan. Do not add any oil when frying as you want to natural oils of the spices to be released. When a slight dry smoke wafts up from the pan and you can smell the pungency of the spices, remove from the heat. Place the spices in a mortar and pestle and crush until fine or for a finer texture, mill in a coffee grinder.For the curry:Heat the oil in a frying pan and brown the chicken pieces in batches until they are well coloured on both sides. Season with salt and pepper, remove from the pan and set aside. Heat a little oil in the same pan and sauté the onion and garlic until softened. This should take about 7 minutes. Add the chilli, garam masala, turmeric, cinnamon, ginger and sugar. Cook the spices and onions together for a minute or two and then deglaze the pan with a splash of water. Scrape the spice mix into a blender and blitz to form a paste.Add the chicken back into the pan and stir in the paste mixture. Cook for several minutes so that the spicy paste coats the chicken. Stir in the tomatoes and coconut milk. Place the lid on and simmer on a medium heat for approximately 35 -40 minutes. Taste and adjust the seasoning if necessary.To make the caramelized bananas, slice a just ripe, but slightly firm banana in half. Brush with melted butter and dunk, cut side down, into brown sugar. Caramelize in a hot pan until tender and sticky. Serve whole and scoop out as a topping for the curry.Handy hint: As with most curries, this Cape Malay curry will taste even better the following day as the flavours mature.Recipe reprinted with permission of Bibby's [email protected] To see more recipes, please click here.